Affiliate Disclosure: We may earn commissions from purchases made through links in this post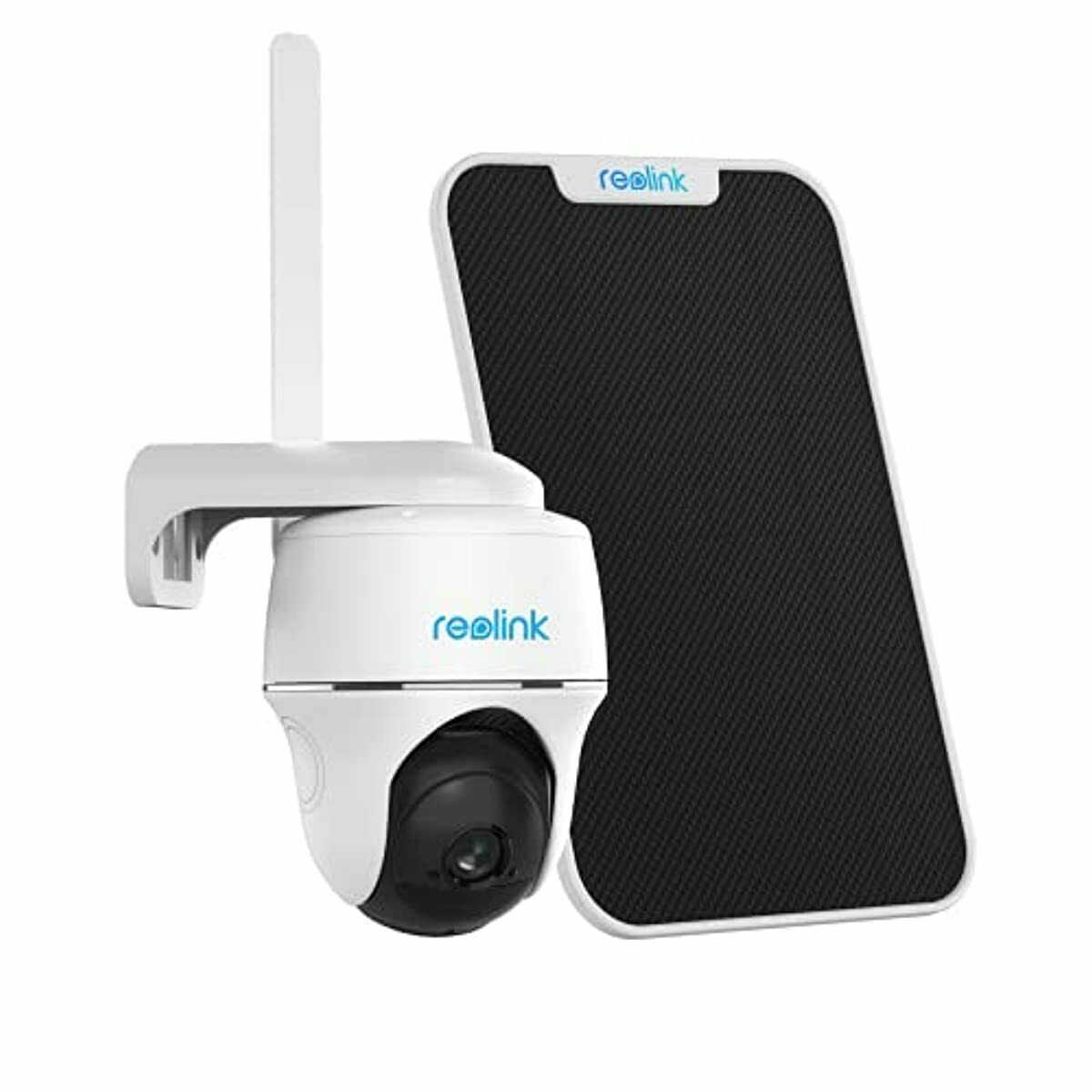 Outdoor Security Camera System Pan Tilt 3G/4G LTE Solar Battery Powered Camera,
Outdoor Security Camera System Pan Tilt 3G/4G LTE Solar Battery Powered Camera, Starlight Night Vision, 2-Way Audio, PIR Motion Detection, No WiFi, No Wires, Reolink Go PT with Solar Panel-US Version

Go Anywhere with Peace of Mind
Reolink Go PT is a 100% wire-free outdoor surveillance camera that runs on 4G LTE and 3G networks. No WiFi needed. No wiring hassles. With an ultra-wide viewing angle of 355° pan & 140° tilt, it can be a perfect security solution for large areas – warehouses, woods, etc.
How to choose a SIM card for the camera:
SIM Card Format: Nano-SIM(4FF) 0.48×0.35×0.026 inch (sold separately)
US Network Operator: T-Mobile ( Prepaid Data Plan Recommended)
* Other data plans with cellular service are also supported.
US Virtual Network Operator: FreedomPop, Mint
The camera is a US version that is suitable to use in the North American areas (US, Canada, Mexico, etc). Other countries might be incompatible.
Key Features
Starlight Night Vision
The starlight CMOS sensor helps to shoot decent images even in darkness.
IP64 Weatherproof
Waterproof casing to withstand harsh weather conditions.
Live View and 2-Way Talk
Hear and talk to your families or friends with a tap.
Secure Cloud Service
Motion triggered recordings can be uploaded to the Reolink cloud as an option. The encrypted Cloud service provides off-site backup and allows you to access and play back video history anytime, from anywhere.
Motion-Triggered Record
When motion is detected, this smart security camera will wake up at once and record a video clip for playback use. Motion events will be saved in micro SD card or Reolink Cloud, and you can watch history videos anytime.
With built-in 16GB Micro SD card.
Quick Remote Access and Monitoring
Wherever you are, you can remotely access Reolink Go PT to get live streaming, and stay aware of your home and business via free Reolink software on iOS/Android phones or Windows/Mac computer.
Other third-party apps such as blue iris aren't supported.
Push notifications
When the security camera detects suspicious motions around your home, it will wake up and send instant notifications to you, allowing you to take in-time actions to deter the intruders. be sent right on your phone.
Customized Voice Alerts
Aside from the push notifications, this 4G security camera also sounds sirens or customized voice alerts to scare off the burglars. Also, you can talk back and forth with the built-in 2-way talk. So, you won't risk your life to confront the thieves.
Privacy & Motion Mask
Privacy masking and motion masking on CCTV security cameras are really helpful to protect your privacy and avoid unwanted alarms or recording without compromising the security cameras efficiency as an intruder deterrent.
What's in the Box
Reolink Go PT (with Battery & micro SD card) x1
Solar Panel x1
Antenna x1
Reset Needle x1
Camera Bracket x1
Mounting Hole Template x1
Surveillance Sign x1
Quick Start Guide x1
Pack of Screws x1
Micro USB Cable x1
4G LTE Outdoor Security Camera with Solar Panel
Reolink Go PT, often referred to as cellular security camera or shortened as SIM camera, operate on the 4G/3G phone network to transmit image and video signals wirelessly. You'll also be informed when the security camera is triggered by motion events.
A built-in 32GB micro SD card in this camera is primarily designed to store motion-activated recordings, a short video clip of movement.
Steps to set up the camera:
1. Insert the Nano-SIM (not included) to SIM card slot of the camera and wait for the led status to turn blue (be careful to distinguish the SIM card slot and SD card slot)
2. Download Reolink APP or PC Client refers to the instruction of the Quick Start Guide (included in the box)
3. Use Reolink APP/PC Client to scan the QR code on the bottom of the camera
4. Follow the instruction on Reolink APP/PC Client to finish the initial setup
Why to Choose 4G Solar Security Camera: Top 5 Benefits
1. No Cabling Needed & Money Saving: The 4G solar security camera can get the job done without running the electric cable to the remote area, saving you a lot of money and trouble.
2. No WiFi Network Needed: One of the greatest things about the 4G solar security camera is that it is independent from WiFi network, and still, it transmits videos wirelessly with no wire at all.
3. Sensitive to Motion: Generally the battery powered 4G solar security camera has a built-in PIR movement sensor that is highly sensitive to the human and animal by comparing the IR (infrared radiation) level changes, reducing a lot of false alarms by the natural elements.
4. Remote Live View & Notifications: The 4G solar security camera allows you to have real time control of it – a big advantage compared with the trail camera. So you can check on the progress of the jobs or what's going on out there at the moment without having to physically go there.
5. Record to SD Card: Generally, the 4G solar security camera will record to the SD card instead of the NVR/DVR. So you don't need to run wires back to the NVR/DVR which is a big challenge for remote sites.
[Upgrade]3G 4G LTE Camera Go Plus 3G 4G LTE Camera Reolink Go Smart Spotlight Cam w/Solar Panel Easy Install Battery Camera Kit Battery Cam w/Solar Panel Wireless Security Outdoor Solar Powered with Magnetic Base Network 3G/4G LTE 3G/4G LTE 2.4Ghz/5Ghz WiFi 2.4Ghz WiFi 2.4Ghz WiFi 2.4Ghz WiFi Pan/Tilt/Zoom 16x Digital Zoom 6x Digital Zoom 16x Digital Zoom 6x Digital Zoom 6x Digital Zoom 6x Digital Zoom Night Vision Night Vision Night Vision Full Color Night Vision Starlight Night Vision Starlight Night Vision Starlight Night Vision Waterproof Weatherproof for Outdoors/Indoors Weatherproof for Outdoors/Indoors Weatherproof for Outdoors/Indoors Weatherproof for Outdoors/Indoors Weatherproof for Outdoors/Indoors Weatherproof for Outdoors/Indoors
Un-tethered Mobile Security Reolink Go PT can work anywhere nationwide with 4G/LTE coverage, 100 wire-free, no need WiFi. Also it can work for outdoors like the front door, backyard, garden, driveway, porch area, even in the wild (solar power supported to generate power even in cloudy or rainy days).
Rotate 355 Horizontally and 140 Vertically for Wide-Range Area Monitoring Being able to pan left and right, tilt up and down, Reolink Go PT can nearly provide complete coverage without blind spots. You can remotely control the pan-tilt feature via Reolink App, and always keep a watchful eye on your property, even you are on the other side of the world.
Rechargeable Battery/ Solar-Powered Coming with a long-lasting rechargeable battery, this versatile 4G wire-free security camera can work independently regardless of a sudden blackout. Connect the camera to Reolink solar panel for nonstop power supply. You'll never need to dismount the camera for recharging or worry about dead batteries.
Advanced Motion Detection Wide-angle PIR motion sensor makes sure no movement will slip through without your notice. The camera uses passive infrared (PIR) motion sensor to detect activities. Once an event is captured, you'll be told promptly.
2-Way Audio Listen in and talk back through the built-in speaker and mic, straight from your smartphone. You can talk to your children, pets or loved ones from anywhere in the world.
Outdoor Security Camera System Pan Tilt 3G/4G LTE Solar Battery Powered Camera,
Helpful Tips On Choosing A Security Camera System

A house security camera or series of cameras can be an excellent addition to a currently efficient house security system. A home safety camera is used for a variety of purposes. The main objective would be to act as a visual deterrent to could be burglars. In most instances, having a home safety camera or several cameras installed in your property is most likely to discourage a possible burglar. For most property owners convincing them a home safety camera would be advantageous is not the issue. The issue is convincing them that buying a safety camera is not as overwhelming as it seems. This short article will offer tips for selecting the right house security camera for your needs.

One of the initial elements of a home safety camera to consider is whether or not you'll use a wireless home safety system or one that demands connection to an energy supply. There are lots of security camera options that are wireless. This indicates the camera does not need to be connected to an external energy provide and there is no require for wires. However, the camera still requires a source of power which is often an internal battery. A wireless house security camera might be easier to install simply because there's no wiring but it may be more difficult to maintain because the batteries might require to become replaced or recharged often.

The location of your house safety camera should also be regarded as before you make your buy. In most cases, a house safety camera is installed outdoors. This requires several considerations. Protection of one's camera in the climate components is very essential. You should select a home safety camera that's developed to function well in your atmosphere. You should also consider where you wish to install the camera. To effectively deter a burglar, the house safety camera should be installed in location of higher visibility because burglars won't be deterred if they do not see the house security camera. This will affect your buy because you'll want to choose a house security camera which will be effortlessly installed within the preferred place.

Lastly, you should decide how you wish to record the images from your house safety camera. The recordings out of your house security camera can be recorded in a variety of ways including on hard disk drives, cloud storage or in your computer. You need to figure out which method you would like to use before buying a home safety camera to make sure the camera you choose is compatible together with your method of recording.

There are lots of options accessible for those who want to buy a house safety camera. All of those options can appear overwhelming and may intimidate some property owners from creating a buy. It is essential to keep in mind that cautious study will make the purchase of a house safety camera a much easier process.