Affiliate Disclosure: We may earn commissions from purchases made through links in this post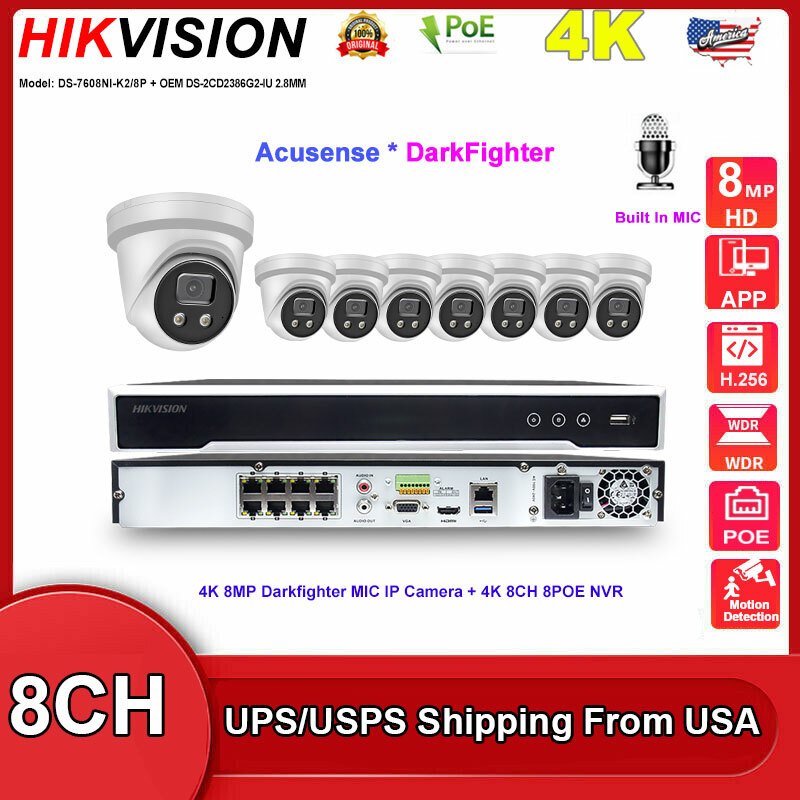 Hikvision DarkFighter 4K 8MP 8CH POE Security Camera System Lot MIC IR OEM IPC
Hikvision DarkFighter 4K 8MP 8CH MIC Security Camera System OEM DS-2CD2386G2-IU
>Hikvision APP : hik-connect, guard viewer, IVS-4200
>Search Tool:SADP (search device and change IP address)
>Warranty: 3years
>If there is any problem with use, please contact with us at any time. we have very professinal engineer, can help you set online.
This is HIKVISION OEM Camera, can't support update firmware!
This is HIKVISION original NVR, which can support firmware upgraded!
Hikvision AcuSense Technology:
1.Human and Vehicle Intrusion,Spotlights the Events that MatterThe most common concerns in perimeter protection are trespassing and vehicle break-ins.
AcuSense helps you to focus on these events in two ways: alarm will only trigger when the preset intrusion type takes place, and related videos are sorted by categories for easier search
2.Active strobe light and audio alarm to warn intruders off: Provide real-time security via built-in two-way audio.

OEM DS-2CD2386G2-IU 4K 8MP AcuSense Darkfighter Fixed Turret Network Camera
High quality imaging with 8 MP resolution

Excellent low-light performance with powered-by-DarkFighter technology

Efficient H.265+ compression technology

Clear imaging against strong back light by 120 dB true WDR technology

False alarm reduction by human and vehicle target classification based on deep learning

-U: built-in microphone for real-time audio security

Water and dust resistant (IP67)

Connecter panel interface for easy installation

Robust structure design with full metal material
DS-7608NI-K2/8P: Embedded Plug & Play 4K NVR
• Third-party network cameras supported
• Up to 8 Megapixels resolution recording
• Support 1-ch HDMI, 1-ch VGA, HMDI at up to 4K(3840×2160) resolution
• 8ch network cameras can be connected with 80M incoming bandwidth
• Up to 2 SATA interfaces
• Plug & Play with up to 8 independent PoE network interfaces
• Support dual-os to ensure high reliablility of system running
•Support various VCA detection alarm and VCA search
•Support H.265/H.264/MPEG4 video formats 
OEM DS-2CD2386G2-IU 2.8MM
Camera

Image Sensor

: 1/1.8″ Progressive Scan CMOS

Min. Illumination

: 

Color: 0.003 Lux – (F1.6, AGC ON), 0 Lux with IR

Shutter Speed

: 

1/3 s to 1/100,000 s

Slow Shutter

: 

Yes

Day &Night

: 

IR Cut Filter

Angle Adjustment

: 

Pan: 0° to 360°, tilt: 0° to 75°, rotate: 0° to 360°
WDR

: 

120 dB
Lens

Lens

: 

Fixed lens, 2.8/4/6 mm

Aperture

: 

F1.6
FOV

: 

2.8 mm, horizontal FOV: 110.7° , vertical FOV: 59.1° , diagonal FOV: 131° 4 mm, horizontal FOV: 87.1° , vertical FOV: 47.4° , diagonal FOV: 101.8° 6 mm, horizontal FOV: 50.8° , vertical FOV: 27.6° , diagonal FOV: 60°

Lens Mount

: 

M16
Illuminator

IR Range

: 

Up to 30 m

Wavelength

: 

850 nm
Video

Max. Resolution

: 

3840 × 2160

Main Stream

: 

50Hz: 20fps (3840 × 2160, 3072 × 1728), 25fps (2688 × 1520,1920 × 1080, 1280 × 720) 60Hz: 20fps (3840 × 2160, 3072 × 1728), 30fps (2688 × 1520,1920 × 1080, 1280 × 720)

Sub Stream

: 

50Hz: 25fps (640 × 480, 640 × 360, 320 × 240) 60Hz: 30fps (640 × 480, 640 × 360, 320 × 240)

Third Stream

: 

50Hz: 25fps (1280 × 720, 640 × 480, 640 × 360, 320 × 240) 60Hz: 30fps (1280 × 720, 640 × 480, 640 × 360, 320 × 240)
Video Compression

: 

Main stream: H.265+/H.264+/H.265/H.264 Sub-stream: H.265/H.264/MJPEG Third stream: H.265/H.264

H.264 Type

: 

Baseline Profile/Main Profile/High Profile

H.265 Type

: 

Main Profile
Video Bit Rate

: 

32 Kbps to 16 Mbps

Scalable Video Coding (SVC)

: 

H.264 and H.265 encoding support
Audio

Audio Compression

: 

G.711/G.722.1/G.726/MP2L2/PCM/MP3
Audio Bit Rate

: 

64Kbps(G.711)/16Kbps(G.722.1)/16Kbps(G.726)/32-192Kbps(MP2L2)/8Kbps-320Kbps(MP3)

Environment Noise Filtering

: 

Yes
Audio Sampling Rate

: 

8 kHz/16 kHz/32 kHz/44.1 kHz/48 kHz
Smart Feature-Set

Basic Event

: 

Motion detection, video tampering alarm, exception (network disconnected, IP address conflict, illegal login, HDD full, HDD error), scene change detection

Premier Protection

: 

Line crossing detection, intrusion detection, region entrance detection, region exiting detection (Human&Vehicle classification)

Region Of Interest

: 

1 fixed region for main stream, sub-stream and third stream

Linkage Method

: 

Upload to FTP/NAS/memory card, notify surveillance center, send email, alarm output, audible warning, trigger capture
Image

Image Enhancement

: 

BLC, HLC, 3D DNR
Image Setting

: 

Saturation, brightness, contrast, sharpness, AGC and white balance adjustable by client software or web browser

Day/Night Switch

: 

Day/Night/Auto/Schedule
Network

Network Storage

: 

microSD/SDHC/SDXC card (256 GB), local storage and NAS (NFS,SMB/CIFS), ANR
Protocols

: 

TCP/IP, ICMP, HTTP, HTTPS, FTP, DHCP, DNS, DDNS, RTP, RTSP, PPPoE, NTP, UPnP, SMTP, SNMP, IGMP, 802.1X, QoS, IPv6, UDP, Bonjour, SSL/TLS

API

: 

0NVF (PROFILE S, PROFILE G), ISAPI, SDK
Security

: 

Password protection, complicated password, HTTPS encryption, 802.1X authentication (EAP-MD5), watermark, IP address filter, basic and digest authentication for HTTP/HTTPS, WSSE and digest authentication for 0NVF, TLS1.2

Simultaneous Live View

: 

Up to 6 channels

User/Host

: 

Up to 32 users, 3 levels: administrator, operator and user

Client

: 

iVMS-4200, Hik-Connect, Hik-Central

Web Browser

: 

Plug-in required live view: IE8+, Chrome 41.0-44, Firefox30.0-51, Safari8.0-11 Plug-in free live view: Chrome 57.0+, Firefox 52.0+
Interface

Communication Interface

: 

1 RJ45 10M/100M self-adaptive Ethernet port

Audio

: 

Built-in microphone

On-Board Storage

: 

Built-in micro SD slot, up to 256 GB
Approval

EMC

: 

FCC (47 CFR Part 15, Subpart B); CE-EMC (EN 55032: 2015, EN 61000-3-2: 2014, EN 61000-3-3: 2013, EN 50130-4: 2011 +A1: 2014); RCM (AS/NZS CISPR 32: 2015); IC (ICES-003: Issue 6, 2016); KC (KN 32: 2015, KN 35: 2015)

Safety

: 

UL (UL 60950-1); CB (IEC 60950-1:2005 + Am 1:2009 + Am 2:2013); CE-LVD (EN 60950-1:2005 + Am 1:2009 + Am 2:2013); BIS (IS 13252(Part 1):2010+A1:2013+A2:2015); LOA (IEC/EN 60950-1)

Chemistry

: 

CE-RoHS (2011/65/EU); WEEE (2012/19/EU); Reach (Regulation (EC) No 1907/2006)

Protection

: 

Ingress protection: IP66 (IEC 60529-2013), IK10(IEC 62262:2002)
DS-7608NI-K2/8P
Video/Audio Input

Two-way audio input:

1-ch, RCA (2.0 Vp-p, 1kΩ)

IP video input:

8-ch

Network

Incoming bandwidth:

80Mbps

Outgoing bandwidth:

160Mbps

Video/Audio Output

HDMI Output:

1-ch, resolution: 4K(3840*2160)/60Hz, 4K(3840*2160)/30Hz, 1920*1080P/60Hz, 1600*1200/60Hz, 1280*1024/60Hz, 1280*720/60Hz, 1024*768/60Hz

Recording Resolution:

8MP/6MP/5MP/4MP/3MP/1080p/UXGA/720p/VGA/4CIF/DCIF/2CIF/CIF/QCIF

VGA Output:

1-ch, resolution: 1920*1080P/60Hz, 1280*1024/60Hz, 1280*720/60Hz, 1024*768/60Hz

Decoding

Capability:

8-ch@1080P

Live view / Playback:

8MP/6MP/5MP/3MP/1080p/UXGA/720p/VGA/4CIF/DCIF/2CIF/CIF/QCIF

Hard Disk

SATA:

2 SATA interfaces for 2 HDDs

Capacity:

Up to 6TB capacity for each HDD

External Interface

USB Interface:

2, USB2.0

Alarm In:

4-ch

Alarm Out:

1-ch

POE

Interface:

8 independent 10 /100 Mbps PoE Ethernet interfaces

General

Power Supply:

100 to 200 VAC

Consumption(without hard disk and POE):

≤ 15 W

Working Temperature:

-10 oC ~ +55 oC (+14 oF~ + 131 oF)

Working Humidity:

10 % ~ 90 %

Chassis:

385 mm chassis

Dimensions:

385 × 315× 52 mm (15.2″ 12.4″ 2.0″)

Weight(without HDD):

≤ 3 kg (6.6 lb)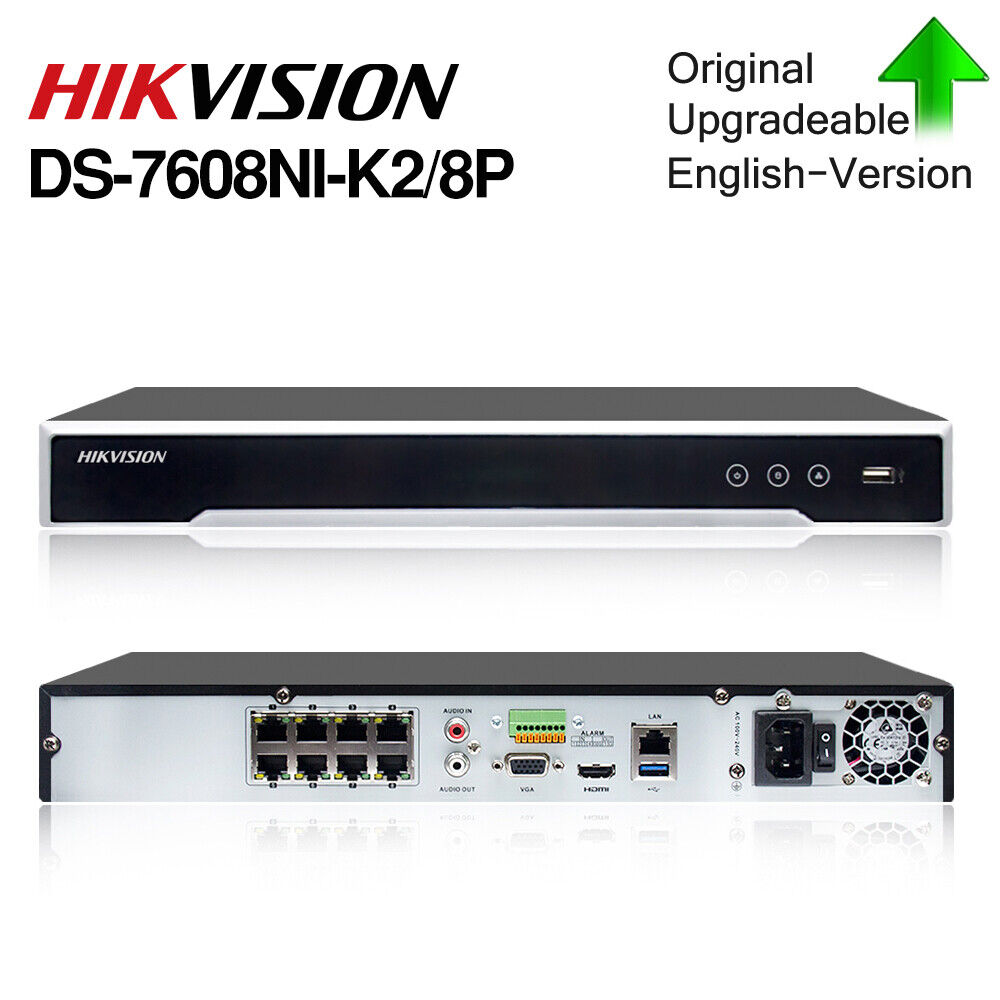 ---
On Nov-25-21 at 07:51:10 PST, seller added the following information:
Hikvision DarkFighter 4K 8MP 8CH POE Security Camera System Lot MIC IR OEM IPC
Helpful Tips On Choosing A Security Camera System

A house security camera or series of cameras can be a great addition to a currently effective house safety method. A home security camera is used for a selection of purposes. The main purpose would be to act as a visual deterrent to would be burglars. In most cases, getting a home safety camera or a number of cameras installed on your home is likely to discourage a potential burglar. For most property owners convincing them a house security camera would be advantageous isn't the problem. The issue is convincing them that buying a safety camera isn't as overwhelming as it seems. This short article will offer tips for choosing the proper house safety camera for the requirements.

One of the initial aspects of a home security camera to consider is whether or not you'll use a wireless house safety system or one that demands connection to a power source. There are many security camera options which are wireless. This means the camera does not need to become connected to an external energy provide and there's no need for wires. Nevertheless, the camera still demands a source of power which is frequently an internal battery. A wireless home security camera might be simpler to install because there's no wiring however it may be more hard to preserve because the batteries may need to be replaced or recharged often.

The location of your home safety camera ought to also be considered prior to you make your buy. In most instances, a house safety camera is installed outdoors. This requires a number of considerations. Protection of one's camera from the climate components is very essential. You need to select a home safety camera that's designed to function well in your environment. You need to also consider exactly where you wish to install the camera. To effectively deter a burglar, the house security camera ought to be installed in location of high visibility because burglars won't be deterred if they don't see the home safety camera. This will affect your buy because you will want to choose a house security camera that will be easily installed in the desired place.

Finally, you should decide how you want to record the images from your home security camera. The recordings out of your house security camera can be recorded in a variety of methods such as on hard disk drives, cloud storage or on your computer. You need to figure out which technique you would like to use prior to buying a house security camera to ensure the camera you select is compatible with your technique of recording.

There are many choices available for those who wish to purchase a home security camera. All of these options can seem overwhelming and might intimidate some property owners from making a buy. It is important to keep in mind that careful research will make the purchase of a house security camera a lot simpler process.