Affiliate Disclosure: We may earn commissions from purchases made through links in this post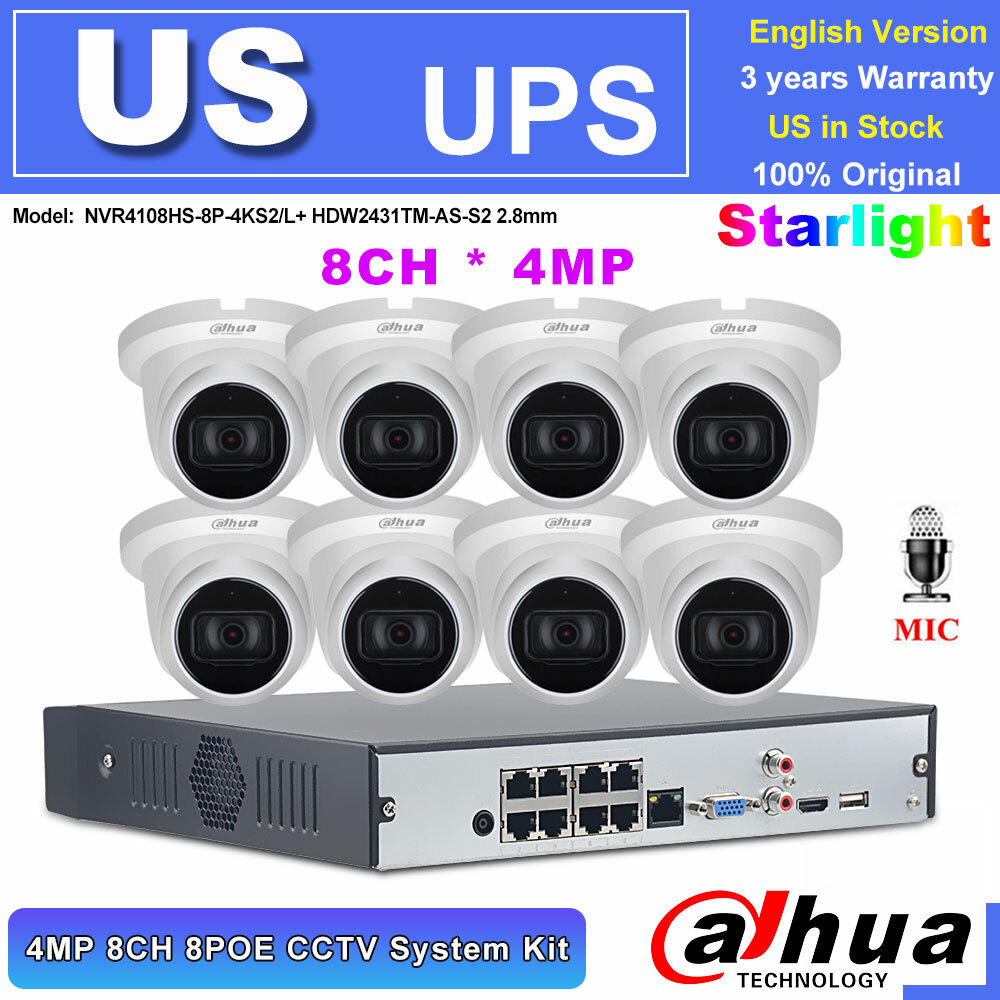 Dahua Starlight 4MP 8CH 8PoE Security Camera System CCTV HDW2431TM-AS-S2 MIC Lot
Dahua Starlight 4MP 8CH 8PoE Security Camera System CCTV HDW2431TM-AS-S2 MIC Lot
Tips:
> Dahua APP : iDmss( iOS), gDmss( Android), Smartpass
> Search Tool:Config Tool (search device and change IP address if needed)
> Default IP:192.168.1.108
> Camera lens: 2.8mm
>Firmware :Dahua original english vision firmware, can support upgrade firmware.
4MP High Quality Video
High-Definition interface output,Support for online playback,Mobile remote,Multi-window
display with 4MP Resolution.The angle will be more larger,and the image will be more clearer.
Dahua Starlight Vision
Even in the dark night, you can see the clear picture as during the day, so you don't miss every detail.
Audio recording on Camera
Built-in a integrated microphone let you hear the sound around the camera,records what people say,make
it authentic with sound video recording.
Motion Detection & Email Alarm
Can set up the area you want to control,When it is triggered,it will send message to your email ,You can get the first hand
information ,no matter when and where you are.
H.265 POE IP Cmaera 
H.265 More Clear , HD resolution offer you best image quality in a lower bit rate. Save more storage
space,can reduce 40%-50% file size,save your HDD storage space and reduce your purchase cost.
H.265 only need a lower bandwidth,speed loading faster,play video more smoothly
 Product Spec:
IPC-HDW2431TM-AS-S2 4MP WDR IR Eyeball Network Camera
> 4MP, 1/3" CMOS image sensor, low illuminance, high image definition 
> Outputs 4MP (2560 × 1440)@25/30 fps, Max. supports 4MP (2688 × 1520) @ 20 fps
> H.265 codec, high compression rate, ultra-low bit rate
> Built-in IR LED, max IR distance: 30 m
> ROI, SMART H.264/H.265, flexible coding, applicable to various bandwidth and storage environments
> Rotation mode, WDR, 3D DNR, HLC, BLC, digital watermarking, applicable to various monitoring scenes
> Intelligent detection: Intrusion, tripwire
> Abnormality detection: Motion detection, video tampering,no SD card, SD card full, SD card error,
network disconnected, IP conflict, illegal access, voltage detection
> Supports max. 256 GB Micro SD card, built-in Mic
> 12V DC/POE power support
> IP67 protection
DHI-NVR4108HS-8P-4KS2/L 8 Channel Compact 1HDD 1U 8PoE Network Video Recorder  
> New 4.0 user interface, Security baseline 2.1
> H.264, H.265, Smart H.264+, and Smart H.265+. H.265 auto switch
> Max. decoding capability: 8 × 1080p@30 fps. Supports adaptive decoding
> Supports mainstream cameras of ONVF and RTSP protocols
> P2P remote surveillance, video play on mobile device
> VGA/HDMI simultaneous video output, maximum resolution of HDMI is 4K
> AI by Camera: Face detection, perimeter protection, IVS, people counting, heat map, and SMD
> Supports remote configuration and management of IPC, such as set ting parameters, getting information, and upgrading IPC of
the same model in batches
Camera   IPC-HDW2431TM-AS-S2

Image Sensor

1/3" 4Megapixel progressive CMOS

Effective Pixels

2688 (H) × 1520 (V)

ROM

128 MB

RAM

128 MB

Scanning System

Progressive

Electronic Shutter Speed

Auto/Manual 1/3 s–1/100000 s

Min. Illumination

0.008 Lux @ F1.6

IR Distance

30 m (98.43 ft)

IR On/Off Control

Auto/Manual

IR LEDs Number

2

Pan/Tilt/Rotation Range

Horizonal: 0°–360°
Vertical: 0°–78°
Rotation: 0°–360°

Lens

Lens Type

Fixed

Mount Type

M12

Focal Length

2.8 mm
3.6 mm

Max. Aperture

F1.6
F1.6

Field of View

2.8 mm:
Horizonal: 102.0°
Vertical: 55.0°
Diagonal: 121.0°
3.6 mm:
Horizonal: 84.0°
Vertical: 45.0°
Diagonal: 100.0°

Iris Type

Fixed aperture

Close Focus Distance

2.8 mm: 0.9 m (2.95 ft)
3.6 mm: 1.6 m (3.61 ft)

DORI Distance

Lens

Detect

Observe

Recognize

Identify

2.8 mm

56 m (183.73 ft)

22.4 m

(73.49 ft)

11.2 m

(36.75 ft)

5.6 m

(18.37 ft)

3.6 mm

80 m (262.47 ft)

32.0 m (104.99 ft)

16.0 m

(52.49 ft)

8.0 m

(26.25 ft)

Smart event

General IVS Analytics

Intrusion; tripwire

Video

Video Compression

H.265; H.264; H.264B; MJPEG

Smart Codec

Yes

Video Frame Rate

Main stream:

2688 × 1520 (1 fps-20 fps)

2560 × 1440 (1 fps-25/30 fps)

Sub stream:

704 × 576 (1 fps-25 fps)

704 × 480 (1 fps-30 fps)

Stream Capability

2 streams

Resolution

2688 × 1520 (2688 × 1520); 2560 × 1440 (2560 × 1440); 2304 × 1296 (2304 × 1296); 1080p (1920 × 1080); 1.3M (1280 × 960);
720p (1280 × 720); D1 (704 × 576/704 × 480); VGA (640 ×480); CIF (352 × 288/352 × 240)

Bit Rate Control

CBR/VBR

Video Bit Rate

H.264: 32 Kbps–6144 Kbps
H.265: 12 Kbps–6144 Kbps

Day/Night

Auto(ICR)/Color/B/W

BLC

Yes

HLC

Yes

WDR

120 dB

White Balance

Auto/natural/street lamp/outdoor/manual/regional custom

Gain Control

Auto/Manual

Noise Reduction

3D DNR

Motion Detection

OFF/ON (4 areas, rectangular)

Region of Interest(RoI)

Yes (4 areas)

Smart IR

Yes

Image Rotation

0°/90°/180°/270° (Supports 90°/270° with 1080p resolution.)

Mirror

Yes

Privacy Masking

4 areas

Audio

Built-in MIC

Yes

Audio Compression

G.711A; G.711Mu; G.726; AAC

Network

Network

RJ-45 (10/100 Base-T)

Protocol

IPv4; IPv6; HTTP; HTTPS; TCP; UDP; ARP; RTP ; RTSP; RTCP; RTMP; SMTP; FTP; SFTP; DHCP; DNS; DDNS; QoS; UPnP; NTP; Multicast;
ICMP; IGMP; NFS; PPPoE; 802.1x; Bonjour

Interoperability

0NVIF(Profile S/Profile G);CGI;P2P;Milestone;Genetec

User/Host

20

Edge Storage

Cloud; FTP; SFTP; Micro SD Card (support max. 256 GB); NAS

Browser

IE
Chrome
Firefox

Management Software

Smart PSS; DSS; DMSS

Mobile Phone

IOS; Android

Certification

Certifications

CE-LVD: EN60950-1
CE-EMC: Electromagnetic Compatibility Directive 2014/30/EU
FCC: 47 CFR FCC Part 15, Subpart B

Power

Power Supply

12V DC/PoE (802.3af)

Power Consumption

< 6.6W

Environment

Operating Conditions

-40°C to +60°C (-40°F to +140°F)/less than ≤ 95%

Storage Temperature

-40°C to +60°C (-40°F to +140°F)

Protection

IP67

Structure

Casing

Metal

Dimensions

99.1 mm × Φ121.9 mm (3.9″ × Φ4.8″)

Net Weight

0.48 kg (1.1 lb)

Gross Weight

0.65 kg (1.4 lb)
NVR4108HS-8P-4KS2
System      

Main Processor

Industrial-grade embedded processor

OS

Embedded Linux

Operation Interface

Web/operating in local GUI

Perimeter Protection by Camera

Performance

8 channels

AI Search

Search for pictures by channel, time and event type

Face Detection by Camera

Performance

4 channels

Face Attributes

6 attributes: Gender, age, glasses, expression, mouth mask, and beard

AI Search

Search for pictures by channel, time and face attributes

SMD Plus by Camera

Performance

8 channels

AI Search

Search by target classification (human, vehicle)

Video

Access Channel

8

Network Bandwidth

Access: 80 Mbps; Storage: 80 Mbps; Forward: 60 Mbps

Resolution

8MP; 6MP; 5MP; 4MP; 3MP; 1080p; 720p; D1

Decoding Capability

8 × 1080p@30 fps

Video Output

1 × VGA output, 1 × HDMI output, supports simultaneous video sources output for VGA and HDMI

Multi-screen Display

1, 4, 8, 9 views

Third-party Camera Access

ONVIF; RTSP

Compression

Video

Smart H.265/H.265/Smart H.264/H.264/MJPEG

Audio

PCM/G711A/G711U/G726/AAC

Network

Network Protocol

HTTP; HTTPS; TCP/IP; IPv4/IPv6; UPnP; SNMP; RTSP; UDP; SMTP; NTP; DHCP; DNS; IP Filter; DDNS; FTP; Alarm Server; IP Search (Support DH IP camera; DVR; NVS; etc.); P2P; auto register

Mobile Phone Access

Android; iOS

Interoperability

ONVIF(profile T/S/G); CGI; SDK

Browser

Chrome; IE9 or later; firefox

Record Playback

Multi-channel Playback

Up to 8 channels for playback

Record Mode

Manual record; alarm recording; SMD recording; smart recording

Storage

Local HDD; network

Backup

USB storage device
Playback Function

1. Play/pause/stop/slow/quick/backward/by frame
2. Full screen, backup (video clip/file), partial zoom in, and audio on/off

Storage

Disk Group

Yes

Alarm

General Alarm

Motion detection, privacy masking, video loss, scene changing, PIR alarm, IPC external alarm

Anomaly Alarm

Camera disconnection, storage error, disk full, IP conflict, MAC conflict, login locked, and cybersecurity exception

Intelligent Alarm

Face detection, perimeter protection (intrusion and tripwire), IVS, people counting, heat map, and SMD alarms

Alarm Linkage

Recording, snapshot, audio, buzzer, log, preset, and email

External Port

Audio Input

1 × RCA input

Audio Output

1 × RCA output

HDD

1 SATA III ports, up to 10 TB for a single HDD. The maximum HDD capacity varies with environment temperature

USB

2 (1 × front USB2.0; 1 × back USB2.0)

HDMI

1 (supports up to 4K resolution output)

VGA

1

Network

1 × RJ-45, 10/100 Mbps self-adaptive Ethernet port

POE

8

General Parameter

Power Supply

DC48 V/53 V, 2A/1.8 A

Power Consumption

< 10 W (HDD not included, idling)
Total output power of PoE is 72W, the maximum output power of a single port is 25.5W

Net Weight

0.92 kg (2.03 lb)

Gross Weight

2.07 kg (4.56 lb)

Product Dimensions

260 mm × 232.5 mm × 50.3 mm (10.24″ × 9.15″ × 1.98″) (W × L × H)

Package Dimensions

117 mm × 373 mm × 307 mm (4.61″ × 14.69″ × 12.09″) (W × L × H)

Operating Conditions

–10 °C to +55 °C (+10 °F to +131 °F)

Storage Conditions

0 °C to +40 °C (32 °F to 104 °F)

Operating Humidity

10℅~93℅

Storage Humidity

30%~85%

Operating Altitude

3000 m (9842.52 ft)

Installation

Desktop mounted

Certifications

CE: EN62368-1; EN55032,EN55024, EN55035, EN61000-3-2, EN61000-3-3 EN50130-4
FCC: Part 15 Subpart B
What is Includes: 
1 x Dahua Original

IPC-HDW2431TM-AS-S2

2.8mm

4MP Network Camera
1 x

DHI-NVR4108HS-8P-4KS2/L

 8 Channel Compact 1HDD 1U 8PoE Network Video Recorder 

1 x Accessories
Dahua Starlight 4MP 8CH 8PoE Security Camera System CCTV HDW2431TM-AS-S2 MIC Lot
Tips On Home Security Cameras

A home security camera or series of cameras can be a great addition to a currently efficient house security system. A house security camera is utilized to get a variety of purposes. The main purpose is to act as a visual deterrent to could be burglars. In most instances, having a house security camera or a number of cameras installed on your home is likely to discourage a possible burglar. For most property owners convincing them a home safety camera could be beneficial isn't the issue. The problem is convincing them that buying a safety camera isn't as overwhelming because it appears. This article will offer tips for choosing the right home security camera for your needs.

Among the initial aspects of a house security camera to consider is whether or not you'll use a wireless home safety system or one that demands connection to an energy supply. There are many security camera options that are wireless. This indicates the camera doesn't require to become connected to an external energy supply and there is no require for wires. Nevertheless, the camera nonetheless requires a supply of energy that is often an internal battery. A wireless house security camera may be simpler to install because there is no wiring however it can be much more hard to preserve because the batteries might need to become replaced or recharged frequently.

The location of your house security camera should also be regarded as prior to you make your purchase. In most instances, a home safety camera is installed outdoors. This requires a number of considerations. Protection of your camera in the weather components is very important. You should select a home safety camera that's designed to work well in your environment. You need to also think about where you want to set up the camera. To effectively deter a burglar, the house security camera ought to be installed in place of higher visibility because burglars won't be deterred if they do not see the house security camera. This may affect your buy because you'll wish to select a house security camera that will be easily installed in the preferred place.

Finally, you need to determine how you wish to record the images from your house safety camera. The recordings out of your home security camera may be recorded in a variety of methods including on hard disk drives, cloud storage or in your pc. You should figure out which method you would like to use prior to buying a house security camera to ensure the camera you select is compatible together with your method of recording.

There are many options accessible for all those who wish to purchase a house safety camera. All of these options can seem overwhelming and might intimidate some homeowners from making a purchase. It is essential to remember that careful research will make the buy of a house safety camera a lot simpler process.